Our catalog is constantly changing, please call the store to verify availability.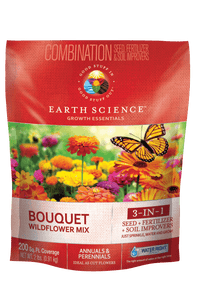 Earth Science Grown Essentials Wildflower Bouquet Mix
Brighten your landscape with a burst of brilliantly colored flowers. We make it easy with this all-in-one formula that contains natural wildflower seed, mulch, plant food, and soil conditioners. Our Bouquet Mix is a carefully selected blend of 9 wildflower species, including cosmos, rocket larkspur, zinnia, and Shasta daisy. 3-in-1 Formula 2 lbs covers 200 sq ft.

| GENUS/SPECIES | COMMON NAME | TYPE | HEIGHT IN. | GERM TIME | WEEKS TO FIRST BLOOM |
| --- | --- | --- | --- | --- | --- |
| Gypsophila elegans | Annual Baby's Breath | A | 8-18 | 10-20 days | 5-7 weeks |
| Calendula officinalis | Calendula (Pacific Beauty Mix) | A | 12-24 | 7-14 days | 7-8 weeks |
| Cosmos bipinnatus | Cosmos (Sensation Mix) | A | 36-60 | 14-21 days | 8-10 weeks |
| Delphinium consolida | Rocket Larkspur | A | 12-36 | 14-28 days | 12-13 weeks |
| Rudbeckia hirta | Black-Eyed Susan | B | 12-36 | 7-30 days | Summer-Fall |
| Zinnia elegans | Zinnia (California Giant Mix) | A | 30-40 | 5-14 days | 8-10 weeks |
| Clarkia amoena | Dwarf Godetia | A | 8-14 | 21-28 days | 9-11 weeks |
| Chrysanthemum maximum | Shasta Daisy | P | 18-30 | 15-30 days | Summer |
| Papaver rhoeas | Corn Poppy | A | 12-30 | 10-30 days | 9-10 weeks |
PLANT KEY:
A = Annual

B = Biennial

P = Perennial




TP = Tender Perennial



---
We Also Recommend
---