Our catalog is constantly changing, please call the store to verify availability.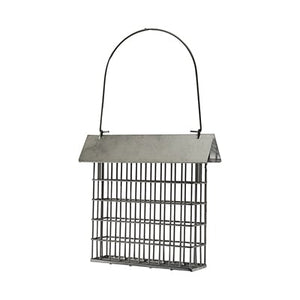 Audubon/woodlink Rustic Farmhouse Single Suet Galvanized Feeder
Fashion meets function with the Rustic Farmhouse Galvanized Suet Feeder Suet Cage Feeder. This cage style feeder will have your birds performing acrobatics while feeding. Birds cling to a sturdy wire cage that withstands rigors of daily use and the metal cage is topped with a galvanized overhanging roof to protect food from the weather. Fully assembled, included metal hook extends through the roof for easy placement on a tree branch or outdoor supports. The shape attracts a variety of tree clinging bird and the lift up lid makes refilling easy. Fully assembled, included metal hook for easy placement.
---
We Also Recommend
---