Our catalog is constantly changing, please call the store to verify availability.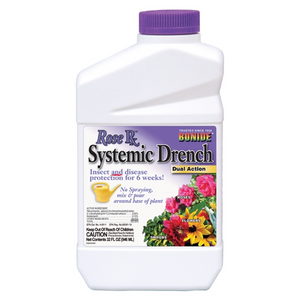 BONIDE ROSE RX SYSTEMIC DRENCH CONCENTRATE
Keep roses in top shape with Bonide Rose Rx Systemic Drench Concentrate. This dual-action formula provides both plants and new growth six weeks of protection against insects and diseases. Rain or watering will not wash off this long-lasting protection. One quart treats up to 16 roses or other shrubs or 200 square feet of flower bed.
---
We Also Recommend
---