Our catalog is constantly changing, please call the store to verify availability.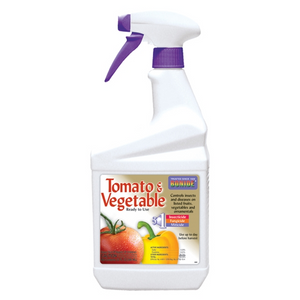 BONIDE TOMATO & VEGETABLE 3-IN-1 SPRAY 1 QT
Provide triple protection to your plants with Bonide Tomato & Vegetable 3-In-1 Spray. This formula is an insecticide, fungicide and miticide all in one. Bonide Tomato & Vegetable 3-In-1 Spray protects vegetables and vine plants such as tomatoes, potatoes, beans, melons and squash and is also excellent for berries and flowers. The advanced formula kills aphids, mites, bugs, scale, caterpillars, whitefly, thrips, plus scab, rust, powdery mildew, leaf spots, blight, brown rot and other insects and diseases. May be used up to the day before harvest. Great for outdoor and indoor/greenhouse use.
---
We Also Recommend
---