Our catalog is constantly changing, please call the store to verify availability.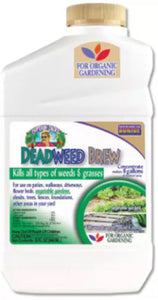 DEADWEED BREW QT CONC CAPTAIN JACKS
32 oz. Deadweed Brew Concentrate. Controls the growth of weeds, grass, mosses, and algae. Used on lawns, gardens, bark mulch, patio, driveways, and more. Mix with water and apply easily with a standard sprayer.
---
We Also Recommend
---