Our catalog is constantly changing, please call the store to verify availability.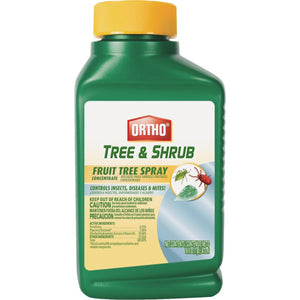 Ortho 1 Pt. Concentrate Fruit Tree Insect & Disease Killer
Broad spectrum fruit tree protection. Controls insects, diseases, and mites. Kills insect stages - including eggs, larvae, and adult. Controls aphids, mealybugs, mites, scale, whiteflies, beetles, and other listed insects. Can be used up to the day of harvest. Prevents fungal attack of plant tissues. For use on fruit tree, nut trees, and ornamentals. Active ingredients: Pyrethrins, Piperonyl Butoxide, Neem Oil. 1 pint container will make up to 16 gallon. Dilution rate: 2 tablespoons per gallon of water.
---
We Also Recommend
---